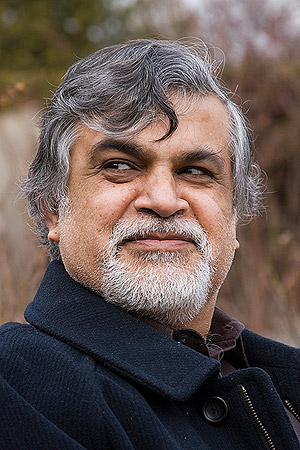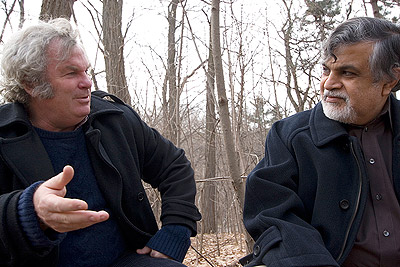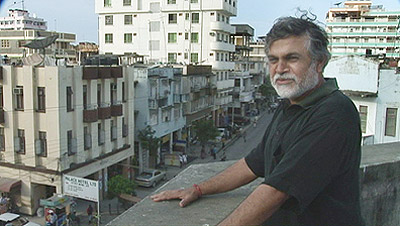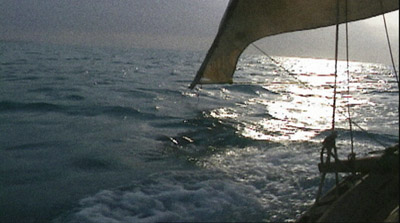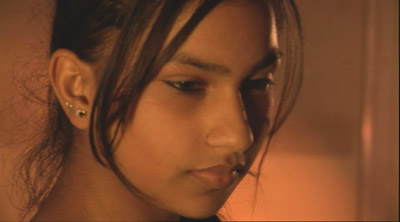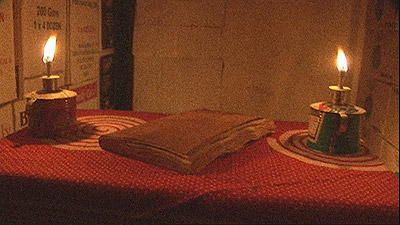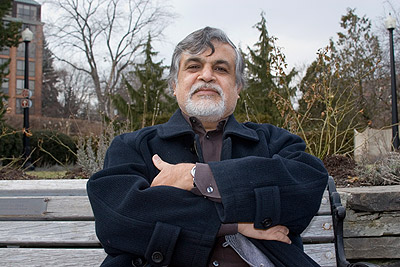 The In-Between World of M.G. Vassanji, focuses on why his novels keep winning prizes.Documentary filmmaker Robin Benger had been watching the 2003 Giller Prize broadcast the night M.G. Vassanji won his second Giller, this time for
The In-Between World of Vikram Lall
.Benger was intrigued by three things:
how anti-hoopla the writer seemed to be,
the fact that he, like Benger, was from Africa, and wrote about it, and
that here was Canada's contribution to a fascinating global literary elite of writers of Asian and Islamic origin.
Description:
January 31, 2006. TORONTO. Ask the average person in this country to name five living  Canadian writers and you will certainly hear the names Farley Mowat and Margaret Atwood. There is an excellent chance you'll also get Michael Ondaatje and Alice Munro. But it's a long shot that M.G.Vassanji's name will be on the list – in spite of the fact that he has been awarded the Order of Canada and won the coveted Giller Prize twice (only Alice
Munro has matched that accomplishment). On one website, Well Known Canadian Authors, M.G. Vassanji's name does not even appear. The In-Between World of M.G. Vassanji, the most recent documentary from Cogent/Benger Productions, doesn't spend time on why this author is not known to the public. It does focus on why his novels keep winning prizes.
The In-Between World of MG Vassanji is a celebration of Canadian identity, literary quality, and good fortune. It is the first in a series of documentaries Benger intends to make on Canadian writers, "Our writers have exploded onto the international literary circuit, and yet the broader Canadian public doesn't know much about them. Our hockey players are better known. I think television in Canada has an opportunity to further increase the understanding of these writers and their imaginations to a wider public. The format of this documentary, combining excerpts from writer's work with complete access to the writer's ideas, imagination and continuing work, as well as his publishing story, provides a holistic documentary of the writer which I hope will become a definitive record of his work and character for those who wish both to be entertained and who wish to study him and his work. "
Born in Nairobi, Kenya, Vassanji's story begins in Dar Es Salaam, Tanzania, where, as an impoverished and fatherless five-year-old, he absorbed the exotic world about him. After studying at the Massachusetts Institute of Technology, earning his Ph.D in nuclear physics from University of Pennsylvania, he moved to Canada and wrote his first book, Uhuru Street and then The Gunny Sack (which won the 1990 Commonwealth Writers Prize) which sprang directly from the streets of Dar Es Salaam. The documentary follows him through other landscapes which inspired later works, from the ancient graveyards of Arusha and other colonial outposts: (The Book of Secrets, first Giller Prize); to Nairobi, and the murky world of Asian-African corruption in his Kenyan masterwork (The In-Between World of Vikram Lall ) (second Giller Prize); to the Don Valley, and the apartment towers of immigrant Toronto( No New Land) to the frozen northern beauty and solitude of Deep River, Ontario (Passages) – where Vassanji worked as a nuclear physicist following his sexually and politically turbulent years on scholarship to MIT: (Amriika).
The In-Between World of MG Vassanji goes into the back rooms of the Canadian publishing industry where the story of fierce competition over Vassanji's work is told for the first time, how he was published and then 'traded' between rival publishers. This segment is highlighted by a rare interview with Ellen Seligman, the legendary editor of Vassanji, Atwood and Ondaatje.
The In-Between World of MG Vassanji was produced in association with Bravo!, The Knowledge Network, Canadian Learning Television, with the financial participation of Rogers Cable Network Fund and the Canadian Independent Film and Video Fund and with the participation of the Canadian Television Fund created by the Government of Canada and the Canadian Cable Industry, CTF: License Fee Program, Telefilm Canada: Equity Investment Program and The Canadian Film or Video Production TaxCredit Program.
Producers
Christopher Sumpton
Robin Benger
Director/Writer:
Robin Benger
Narrator
Robin Benger
Vassanji excerpts read by
Raoul Bhaneja
Ishwar Mooljee
Rahnuma Panthaky
Cinematographer
Stanislav Barua
Editor
Greg Hopen
Composer
Donald Quan
Format:SD
First aired
March 9, 2006