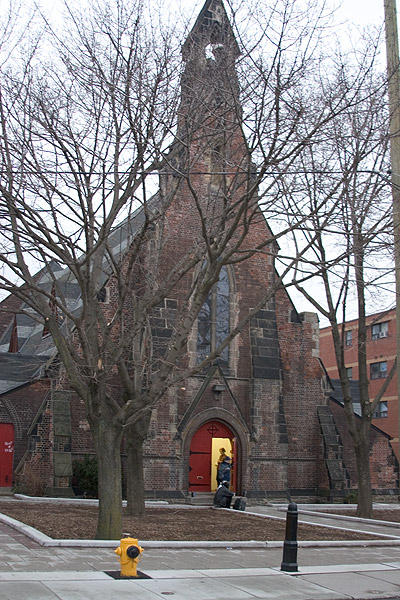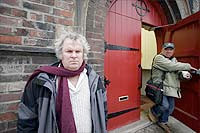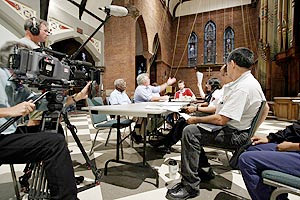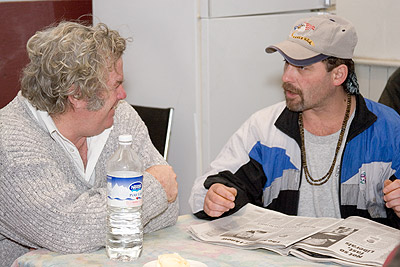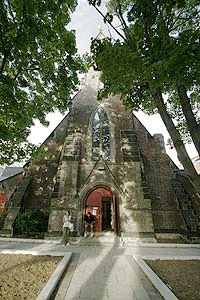 MONEY AND THE MAKER explores the roots of faith and the dream of goodness, the very fault-lines that constantly threaten our image of ourselves as tolerant, non-racial and fair, and includes interviews with Bishop Philip Poole and special appearances by Bruce Cockburn, Jane Siberry and Daniel Lanois.
In a way, the future of God is at stake at Saint Stephen-In-The-Fields on College Street in Toronto, and, barring a miracle, God is losing. This is how and why it happened. Filming took place October 2004 – October 2005.
Description:
Heartfelt, maddening…and as the film-maker lose his objectivity and threatens to become unhinged in his support of these people, increasingly riveting and moving….a story about the rich getting richer and the poor poorer… a story about this city, warts and all.
— George F Walker (This is Wonderland; Suburban Motel)
A highly dramatic and riveting production. Every emotion is portrayed….anger, frustration, sadness, compassion. A cauldron of spiritually charged emotion. An incredibly moving documentary with a vital message for everyone….believer or not. Beautifully biased…in the right way.
–Roy Bonisteel (ex host CBC Man Alive)
….really brilliant storytelling..wonderful characters… broadens out to a wider world…
— Kevin McMahon, (Primitive Features Inc.)
In the Middle East, religious zealots are prepared to die for their religion. In the United States, evangelical Christians are edging towards superchurches complete with jumbotron screens. In Canada, the Anglican Church is waging a different kind of battle – one of survival. While Native, gayand liturgical issues fragment the Canadian Anglican community, its congregations are dying and churches are closing at an unprecedented rate. Five hundred churches, Anglican and otherwise, have closed down across Canada in the last decade. The Anglican Church has lost half of its worshippers (One studyshows by 2060 there will be one Anglican left in Canada.).
A little over a year ago, documentary filmmaker, Robin Benger (Madiba:The Life & Times of Nelson Mandela; Iraq; Robbing the Cradle of Civilisation; The In-Between World of MG Vassanji) wandered into Toronto's Saint Stephen-In-The-Fields, a paschal lamb of a church, 150 years old and sinking beneath its debt to a Diocese facing the worst crisis in its history. What he heard was a death knell being delivered to one of the most defenseless collection of people he'd seen in any institution.
We must come up with half a million dollars by June, intoned the Warden, "or we will be shut down. Money And The Maker tracks the life, near-death, and improbable salvation of this church. It is a classic study of grassroots democracy within a less-than-democratic institution. Gaining complete access to the lives and activism of severalpoignant characters, Benger takes us behind the righteous veil and gets involved in the battle with the bishops.
This small group scrambles desperately to raise the money, is riven in two by the dictates of obedience, then hardens its resolve to damn the debt and challenge its diocesan masters. On the other side, the Diocese tries to pick off the priests of the three congregations housed in the church; turn the financial screws on the congregation; put its own officials in charge of the pushy parishioners; attempts to shut the place down and potentially make a million dollars in the realestate
boom in the newly gentrified College Street neighbourhood.
I thought to myself, there's something here about the meaning of faith, not in some far off land, but right here in my own community. I have documented the political right in America and, in Iraq and Afghanistan, the wildfire spread of Islamic fundamentalism. It troubled me that my own tolerant and sedate religion seemed to be throwing in the towel, dying from neglect and boredom. Keeping any kind of faith is a battle, so should this church expire in silence?Had the Anglican authorities' decision to close it been scrutinized, not only internally, but by the community that had grown up around St. Stephen's over the last 150 years? It was one of those infrequent opportunities to do something good by throwing a camera into the path of a train. Besides which, I have always wanted to do a 'God' documentary, and this fell into my lap.

It was a journey both fantastic and infuriating. "I loved the language, the laughter, the music and the characters. Documentary shooting gives one the space to track the story as it unfolds, but I also found I was, ultimately, appalled and distressed at the manipulations, loss of faith and lack of courage. We do not have the spiritual backbone of our forebears, of this I am convinced, and somehow, on a global level, this is troubling. — says Robin Benger.
Money And The Maker has been produced in association with VisionTV and CBC Newsworld with the financial participation of Rogers Cable Network Fund, Rogers Documentary Fund. And with the participation of the Canadian Television Fund created by the Government of Canada and the Canadian Cable Industry, CTF: License Fee Program, Telefilm Canada: Equity Investment Program and The Canadian Film or Video Production Tax Credit Program.
---
St. Stephen's Newsletter May 7, 2006
Signs and Wonders
St. Stephen's in the Cinema: Robin Benger speaks out
By Shane Schick
The man who spent the last two years filming a documentary about the parish's struggle to hold onto its church says he's ready for whatever the congregation wants to throw at him.
In keeping with a promise he made more than two years ago, Robin Benger willallow members of St. Stephen's in-the-fields to be the first to see his new film, Money and the Maker: The Battle for St. Stephen's, on Sunday May 14. The premiere will take place about two weeks before it runs on VisionTV in two parts, on May 24 and 31 at 10 p.m.
Money and the Maker covers the period between October 2004, following key members of the parish as they tried to create a strategy in response to the fiscal framework imposed by the Diocese and pay back hundreds of thousands of dollars in debt. Benger, who stresses that the film is his own subjective take on events, will be present at the screening.
I'm going to have a crew with me, and there's going to be a discussion after the film, and people are absolutely free to take shots at me," he says.
Benger already had projects in the works before he learned of St. Stephen's predicament, but those were shelved once the idea for Money and the Maker took shape."
I walked into the church completely by chance," he says. "I was actually trying to rent a car at the Budget rental agency next door and I saw this sign that said 'Worship at 10:00 a.m.' I can't resist going into church services. It kind of tops me up spiritually."
Benger, who has a long history of making films for the CBC and the National Film Board, joined the congregation after a period of traveling through Somalia, Iraq and Afghanistan. It was a time, he says, that taught him what it was like to be persecuted for his religion and to be treated like an infidel. The contrast when he returned was stark.
What I was finding when I came back to Toronto was something that had all the symptoms of a dying church, and that troubled me deeply. I had not been impressed by how boring it was and how mild and meek and completely — it seemed to me — unengaged the Anglicans and the Parkdale deanery were to the turbulent political events that I was covering around the world, and to a certain extent, some of the things that were happening politically here in Canada.
– Benger
As filming went on, Benger did not remain seated in the director's chair, but became a character in Money and the Maker. This included his decision to join the parish Advisory Board, to take part in meetings with the Friends of St. Stephens and to help run the Sunday breakfast program.
"
I sort of had a transition – it was like a metamorphosis – where I said, 'I've got to be responsible for this place, I can't just make a film about it,'" he said. "If there was anything I could do to stop (the church's closure) from happening, I had to do that, and let the camera follow me as well."
Although it is not a decision he entirely regrets, Benger says his participation in the church's politics took a personal toll on him.
I tend to be a bit of a bull in a china shop. I think I probably hurt some people and I think I probably surprised some people with my absolute determination to keep (the church) open at all costs.

I thought at the time — foolishly — that we had almost saved the church. Now I feel completely alone in that group of people. I feel I have absolutely no allies. Anyone whose position I supported or who supported my position has left or gone weird on me . . . it's not an experience I enjoyed.
– Benger
Benger, who at one point was helping organize a conference on inner-city ministry with the Friends of St. Stephen's, remains critical of recent moves to work with the Diocese on finding a tenant to occupy the back of the building.
Even if he's the greatest real estate agent in the world – everyone seems to be very relieved that the Diocese and Neil Wright have signed this deal.What is means is the death of this church, he says. I don't even like to think about it, it upsets me so much.
Length:
1 hour
Producers
Christopher Sumpton
Robin Benger
Director/Writer
Robin Benger
Narrator
Robin Benger
Cinematographers
Mike Grippo
John Westheuser
Michael Savoie
Alister Bell
Editor
Greg Hopen
Composers
Eric Robertson
Claude Desjardins
Format:SD
First aired:
May 24, 2006